Solid Tungsten Carbide Rod for Making Cutting Tools
Product Detail
Feedback now
Solid Tungsten Carbide Rod for Making Cutting Tools
Carbide End Mill, Ballnose End Mill, Tapered End Mill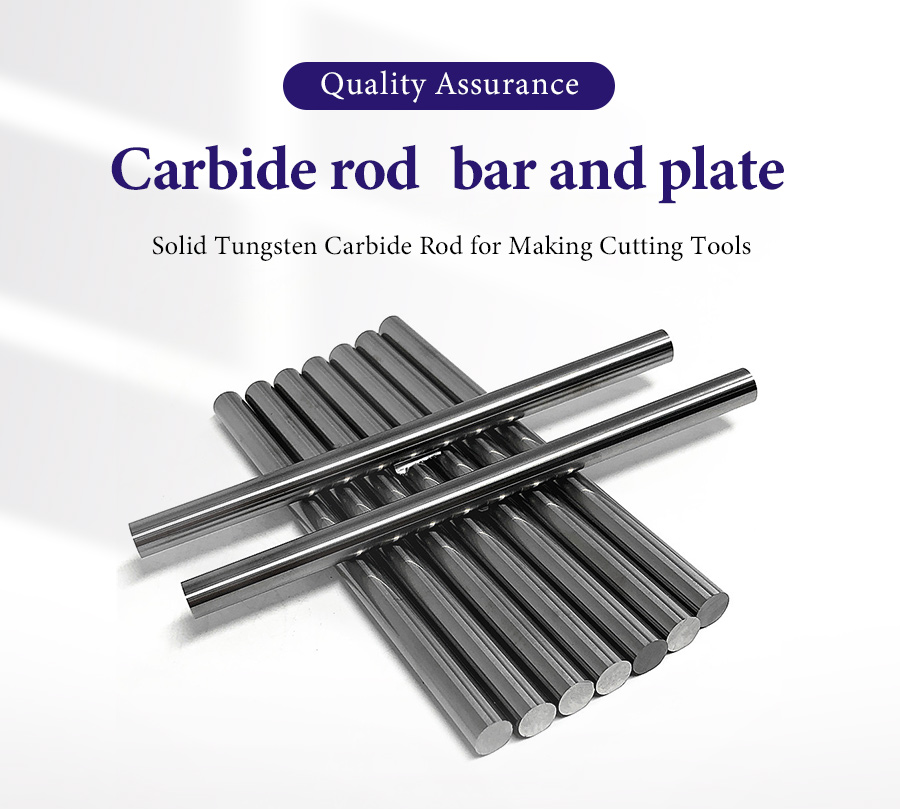 Types of Tungsten Carbide Rods
Type

D(mm)

Tol. of diameter(mm)

L(mm)

Tol. of length(mm)

Φ2.0x330

2.0

+0.40/+0.20

330

0~+5.00

Φ2.5x330

2.5

+0.40/+0.20

330

0~+5.00

Φ3.0x330

3.0

+0.40/+0.20

330

0~+5.00

Φ3.5x330

3.5

+0.40/+0.20

330

0~+5.00

Φ4.0x330

4.0

+0.40/+0.20

330

0~+5.00

Φ4.5x330

4.5

+0.40/+0.20

330

0~+5.00

Φ5.0x330

5.0

+0.45/+0.20

330

0~+5.00

Φ5.5x330

5.5

+0.45/+0.20

330

0~+5.00

Φ6.0x330

6.0

+0.45/+0.20

330

0~+5.00

Φ6.5x330

6.5

+0.45/+0.20

330

0~+5.00

Φ7.0x330

7.0

+0.45/+0.20

330

0~+5.00

Φ7.5x330

7.5

+0.45/+0.20

330

0~+5.00

Φ8.0x330

8.0

+0.45/+0.20

330

0~+5.00

Φ8.5x330

8.5

+0.45/+0.20

330

0~+5.00

Φ9.0x330

9.0

+0.45/+0.20

330

0~+5.00

Φ9.5x330

9.5

+0.45/+0.20

330

0~+5.00

Φ10.0x330

10.0

+0.50/+0.20

330

0~+5.00

Φ10.5x330

10.5

+0.50/+0.20

330

0~+5.00

Φ11.0x330

11.0

+0.50/+0.20

330

0~+5.00

Φ11.5x330

11.5

+0.50/+0.20

330

0~+5.00

Φ12.0x330

12.0

+0.50/+0.20

330

0~+5.00

Φ12.5x330

12.5

+0.50/+0.20

330

0~+5.00

Φ13.0x330

13.0

+0.50/+0.20

330

0~+5.00

Φ13.5x330

13.5

+0.50/+0.20

330

0~+5.00

Φ14.0x330

14.0

+0.50/+0.20

330

0~+5.00

Φ14.5x330

14.5

+0.50/+0.20

330

0~+5.00

Φ15.0x330

15.0

+0.60/+0.20

330

0~+5.00

Φ15.5x330

15.5

+0.60/+0.20

330

0~+5.00

Φ16.0x330

16.0

+0.60/+0.20

330

0~+5.00

Φ16.5x330

16.5

+0. 60/+0.20

330

0~+5.00

Φ17.0x330

17.0

+0.60/+0.20

330

0~+5.00

Φ17.5x330

17.5

+0.60/+0.20

330

0~+5.00

Φ18.0x330

18.0

+0.60/+0.20

330

0~+5.00

Φ18.5x330

18.5

+0.60/+0.20

330

0~+5.00

Φ19.0x330

19.0

+0.60/+0.20

330

0~+5.00

Φ19.5x330

19.5

+0.60/+0.20

330

0~+5.00

Φ20.0x330

20.0

+0.70/+0.20

330

0~+5.00

Φ20.5x330

20.5

+0.70/+0.20

330

0~+5.00

Φ21.0x330

21.0

+0.70/+0.20

330

0~+5.00

Φ21.5x330

21.5

+0.70/+0.20

330

0~+5.00

Φ22.0x330

22.0

+0.70/+0.20

330

0~+5.00

Φ23.0x330

23.0

+0.70/+0.20

330

0~+5.00

Φ24.0x330

24.0

+0.70/+0.20

330

0~+5.00

Φ25.0x330

25.0

+0.70/+0.20

330

0~+5.00

Product features of tungsten carbide rods
| | |
| --- | --- |
| Item | Solid Tungsten Carbide Rod for Making Cutting Tools |
| Material | tungsten carbide, also called cemented carbide |
| Size | Full sizes available |
| Grade | YL10.2, KU30 etc |
| Surface | Blank or ground h6 |
| Application | making cutting tools |
| Sample order | Available |
| Delivery time | about 10-25 days |
| Package | Paper box inside, carton outside |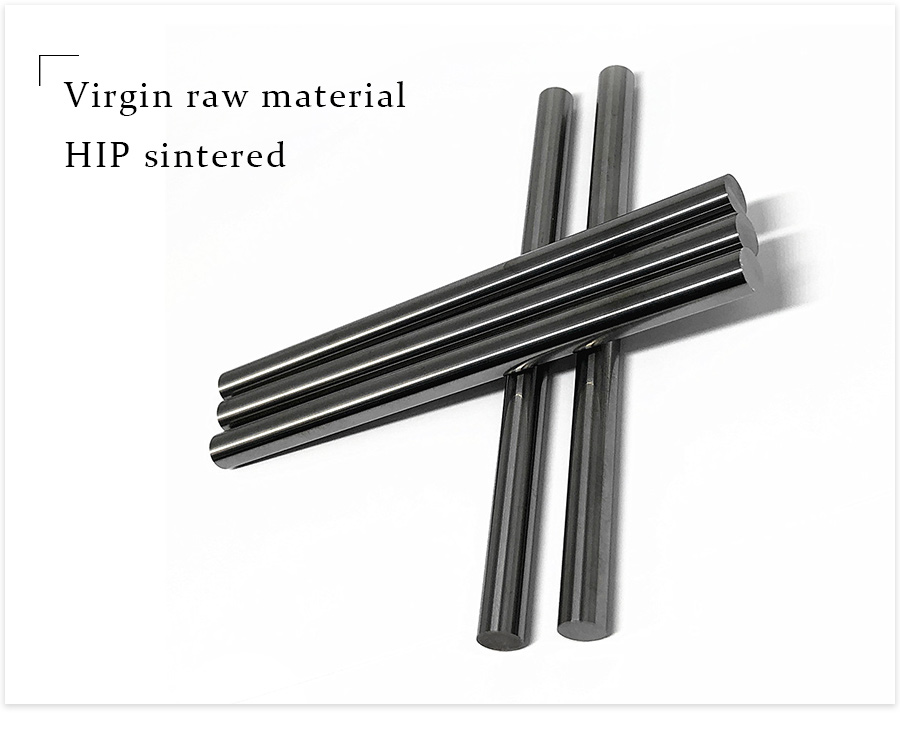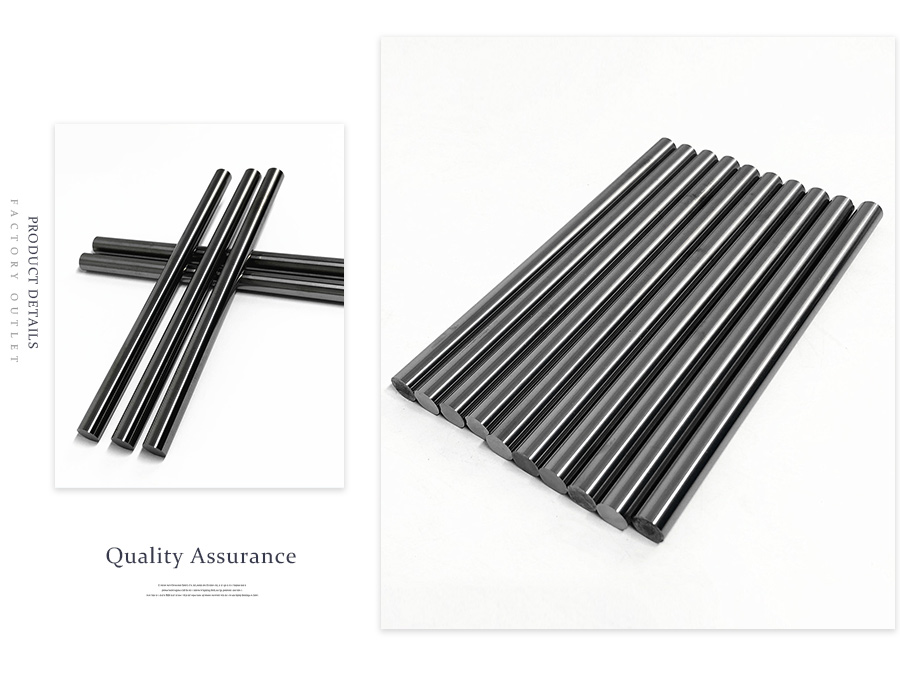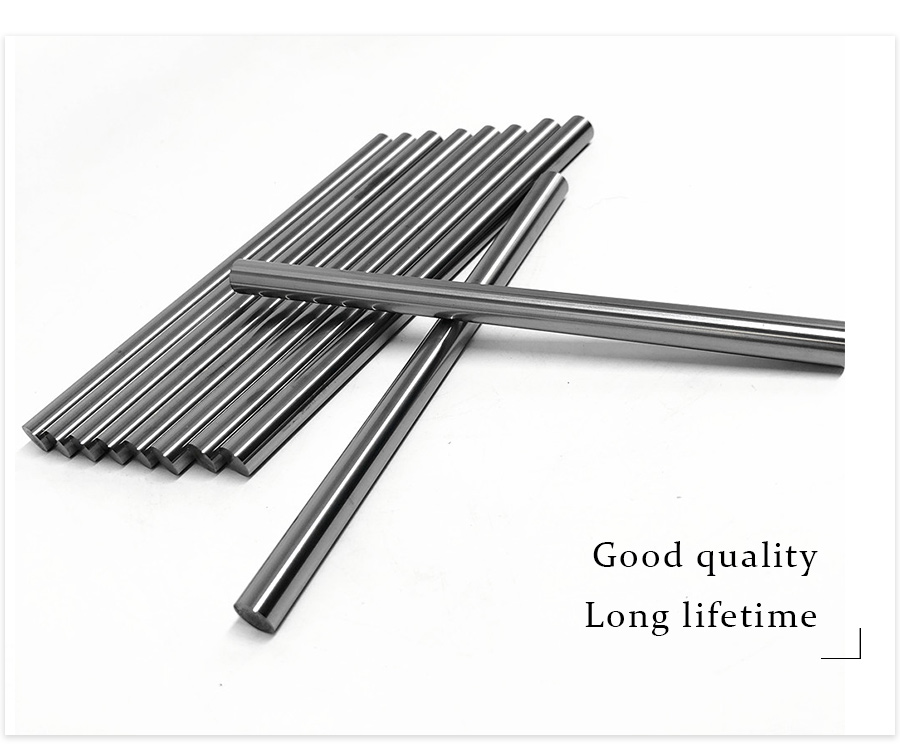 Applications of solid tungsten carbide rods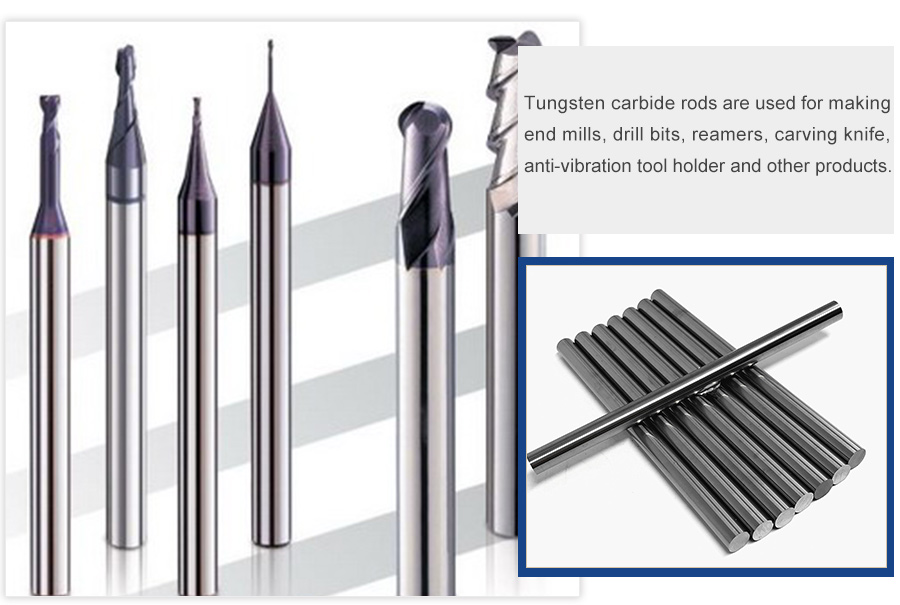 Advantages of solid carbide rods
1)Adopting spray drying tower granulation, raw material with low oxygen content, contamination, the flowability, apparent density particle and granulate is uniform;
2)Adopting high-precision extrusion molding machine, uniform product density, precise dimension, high roundness, and straightness ;
3)Adopting advanced HIP sintering, effectively eliminate the internal holes and defects, the product has good compactness, high strength, good polishing performance;
4)Adopting a special stress-relief process to eliminate the internal stress of products to further enhance the product strength and improve the microstructure;
5)Ground with precision grinding machine, ground rod can reach h6 tolerance.


Packing of cemented carbide rods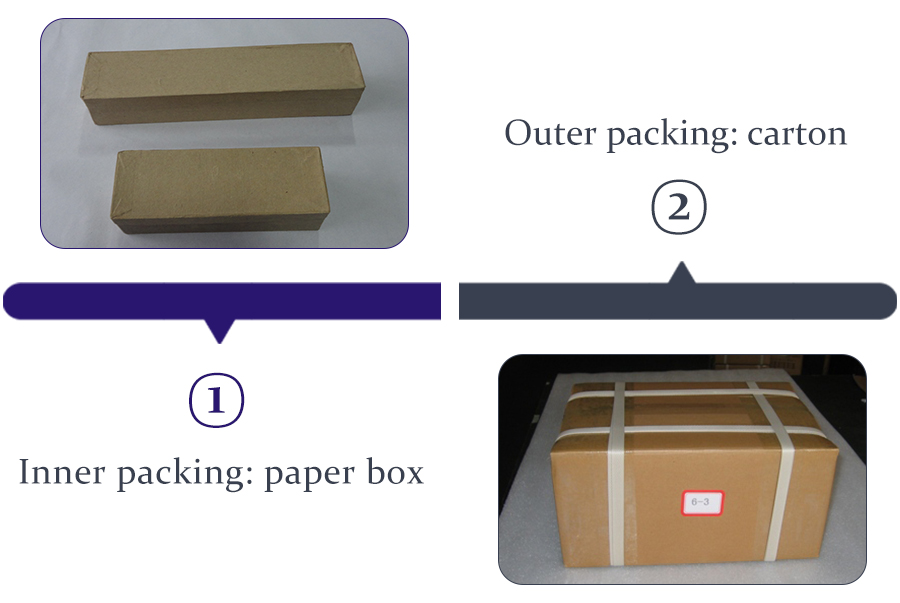 Can also be customized packaging

1. On-line inquiry and consulting;
2. OEM & ODM acceptable;
3. Sample order available;
4. Excellent After-sales Service.

1. Professional manufacturer with over 15 years' experience;
2. 9001:2015 certified;
3. Molds of full types available;
4. Advanced production equipment and quality inspection instruments.


Q1: Are you a factory or trading company?
Yes, we are a factory.
Q2: What's the MOQ for the tungsten carbide rods?
Could be 1 pc for test.
Q3: Can we visit your factory?
Of course, you are welcome to visit our factory.
Tungsten Carbide Tools, China Tungsten Carbide Cutting Tools Suppliers and Manufacturers
Properties That Make Tungsten-Carbide Best For Making Cutting Tools
Cutting tools should have a hardened tip. As compared to steel, Carbide tungsten is a better alloy. You can find quality cutting tools at Zhuzhou Kerui Cemented Carbide Co., Ltd.
Carbide tungsten rods offer with high-quality cutting edge. This is why it is an ideal alloy for making all types of cutting tools.
Hard alloy
As compared to any other metal tools, tungsten carbide tools are harder. They are easy to shape and as compare to alumina or steel.
Corrosion-free
Carbide will not easily get corroded. Carbide cutting tools will not rust or oxidize. They have a long life span. The alloy metal also maintains its lustre. These properties are essential for the best cutting tool.
If you have some problems about Solid Tungsten Carbide Rod for Making Cutting Tools , or want to know more details about Carbide for mining and drilling,Carbide for metal working,Carbide for stone working,Carbide rod, bar and plate,Nonstandard and wear parts, etc. Welcome to contact us!
Looking forward to your inquiry.